MustangTexas.com - Copyright 2013


Grandpa (Conrad) Knudson wasn't born here, but he lived his whole life here....
J. Mark Wallace
An Over View of a Texas Century Farm

George & Olena…
In 1893, my great-grandfather George Knudson purchased approximately a half section of land from the H. N. Smith Estate and the Harry White Cattle Co. He brought his young wife and infant son, Conrad (my grandpa) to this place from the Norse Community later in the year. Their first house was an old two-room house George bought from a neighbor. George used a yoke of oxen to pull the house from nearby Mustang Creek to the present house site.
After they got settled here their second child, Molden was born in 1896, in time there would be four daughters born to George and Olena. All of their children except Conrad , my grandpa , were born on this farm. It was real crowded living in that little house …so, in 1905, George hired a carpenter from Norway to build the two-story house we currently live in. In 1908…the barn was built. It had 3 large grain bins…a long hallway …a large hay loft and horse stalls. There was also a tall wooden silo on the west side of the barn. George also built a small granary east of the barn. The granary burned to the ground in the early 1940's.
In 1909, Olena died of complications from the birth of their sixth child leaving George with six children to care for. Family members helped out with the small children until Conrad married Sadie Grimland in 1914. They were married at the Rock Church. This historic church has always played a major part of the lives of my family.
Conrad & Sadie…
After they were married… Grandpa brought Grandma here where she had a ready made family consisting of 13 year old Molden and sisters Orelia, Pearl, Tomena and baby Hilda.
In 1915, Grandpa and Grandma started their second family (their own family) when my mother Tirah was born in 1915. In 1917, a son, A.C., was born but died when he was eighteen months old during the 1919 flu epidemic. Mother got sick and almost died. From 1920 to 1933, four sons (Wade, Carroll, Milburn, and Gene) were born. During the years of World Wars and Depression, Conrad and Sadie continued to farm, raise their
family and be faithful Christians in Saint Olaf's Norwegian congregation, and participated in community events.
One year, at the closing of the school year individuals were asked to advertise their farms/businesses in order to raise money for a curtain for the auditorium at the Mustang School. When Conrad was asked what to put on the stage curtain… he said, "Valley View." That name has been used off and on over the years and we have officially adopted it.
George lived here with Grandpa and Grandma for 48 years until his death in June of 1957 at the age of 88.
Grandpa officially retired from farming in 1957 at the age of 64, but remained active raising sheep and cattle. Prior to his retirement he had raised turkeys, goats, hogs, cattle and grew cotton, corn, oats and other small grain crops. He also was a bee keeper.
J.M. & Tirah…
In 1964, Grandpa and Grandma wanted to sell the farm. After discussing his desire to sell with his sons they agreed that Tirah and J.M. should buy the farm so it would remain in the family. J. M. and Tirah owned this farm from 1964 until 1989. They made many changes and improvements during the 25 years they owned the farm.
Also during that time, a change was made from farming and raising cattle to leasing out land for farming and grazing cattle. Sheep and goats were still raised. Grandpa lived here until his death in 1978, and, in 1980, Sadie moved to Sunset Home in Clifton where she lived until her death in 1992.
Mark & Jan…
In 1989, Mom and Dad wanted to get the farm out their name because they were getting up in years. They decided to give the farm to their kids. They asked me and Jan to buy the farm. We agreed and bought the two thirds from my sister Barbara and Diana my brother Bob's widow.
1993 marked one hundred years for family ownership of this farm. I was the last person born here in 1939, and dad's wish to die here became a reality in December of 1991.
Tirah continued to live here, where she was born, until April 2000 when she chose to move to Tyssen Hall at Clifton Lutheran Sunset Home. Jan and I moved here permanently in June of 2000—retiring after 37 years of service to the Andrews School District. The transition was pleasant since this place has always been part of my life and Jan's life since 1961. It was good coming home to Bosque County.
Matt, Miriam, Jake & Morgan…
Matt, Miriam, Jake, and Morgan continue to bring happiness to this hundred-year-old house since they moved here in 2003. We all worked diligently on a new building here through the spring, summer and fall of 2004 and they moved into their new home and workplace in October. Before she died on November 4, 2004, Mother was excited about their ministries being carried on at the farm. Six generations have touched others' lives from Grandpa George through me to my grandchildren Jake and Morgan.
A great many events have occurred on this land. Eleven people have been born on this place …each one I'm sure could have told many interesting stories about living on this farm. The Knudson and Wallace families are the only ones that have lived on this land. Land isn't really owned by any one…you simply live on it and serve as caretaker of the land for a short period of time. Many lives have been affected by simply being here.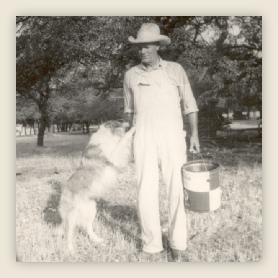 George & Oline Knudson Reunion

September 6, 2014, Saturday Click here for pictures and audio.
10:30 am - Celebration at the Rock Church (please arrive by 10:00 if possible)
11:15 am - George & Oline Knudson descendents PHOTO (inside Rock Church)
11:45 am - Prayer to begin (catered) luncheon at The Gathering Place
After lunch - Recognition of families, short history, reminiscence
Afternoon - "Adjourn" to the farm... please come and continue visiting at the home place.
Enjoy sharing the history of your family...